Around 140 researchers representing 23 different partners from 12 countries gathered in Barcelona, Spain and online for the fifth annual consortium meeting of ATHLETE, an EU-funded project that aims to better understand how our environment can impact human health from pregnancy to adolescence by studying the human exposome.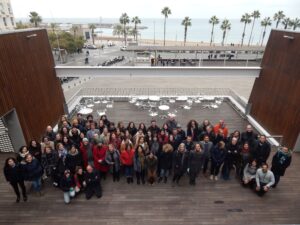 The ATHLETE annual consortium meeting, hosted by ISGlobal, took place from 24 to 26 January 2023. Scientists, researchers and other project partners presented the latest exposome research and developments, including on data infrastructure, exposure science tools, the ATHLETE exposome data analysis toolbox, and the health and economic impact of interventions related to the exposome. 
Guest speaker Prof. Lesley Hoyles from Imperial College London gave a keynote lecture on the role of the microbiome and metabolome in early life exposome research. Mark Nieuwenhuijsen from ISGlobal also gave a keynote lecture on urban health, the urban exposome and future directions in child health research.
Increasingly media and public policy makers are reaching out to talk to scientists directly about cutting-edge environmental health research. A workshop and interactive training on science communication held during the consortium meeting provided an exciting opportunity for ATHLETE researchers to practice talking about the exposome and their findings given the significant number of ATHLETE published papers (over 45 so far) or those in the pipeline.
The training included tips and communication tools for researchers to feel prepared and  to speak comfortably and effectively to different audiences about their research findings, with a particular focus on speaking with the media. Part of the session included an opportunity to workshop an ATHLETE paper and develop key messages and practice what they had learned in real-time. 
ATHLETE follows 80,000 pairs of mothers and children across Europe in order to answer key questions about the health effects of early-life exposure to environmental hazards. This research into the exposome is groundbreaking because researchers are simultaneously studying the diversity of environmental exposures and the health outcomes, from pregnancy up to childhood. As a result, they have the potential to answer key questions about the development of disease and disease prevention. 
Multidimensional and data-rich studies into the human exposome nevertheless have many challenges and have highlighted the urgent need to develop new advanced tools and data analysis approaches. This is where ATHLETE comes into play. 
Visit the project's information release to learn more about ATHLETE's work on the exposome, or download our flyer that is available in 10 languages. You can also follow our journey on Twitter: @ATHLETEexposome.